First I came across tomato rice was when we were on holiday in Portugal.
|
Tomato rice and prawn curry.
For the rice you will need:
1 cup of jasmine rice. (Washed)
11/2 cup of water.
6 pieces cherry tomatoes.(cut into quarter).
6 pieces dry tomatoes in oil. (Slice each of the into 4 or 5 slice)
2 clove of garlic. (Smashed)
Half teaspoon of salt.
1 teaspoon tomato puree.
Put all the ingredients in a rice cooker let the machine do the job or use medium saucepan and cook it with a high flame until it is boiling then turn down the flame to low and cook it until all the water is absorbed by the rice. Stir it once or twice to get the flavour mixed in.
You can use any tomatoes that is available in your kitchen.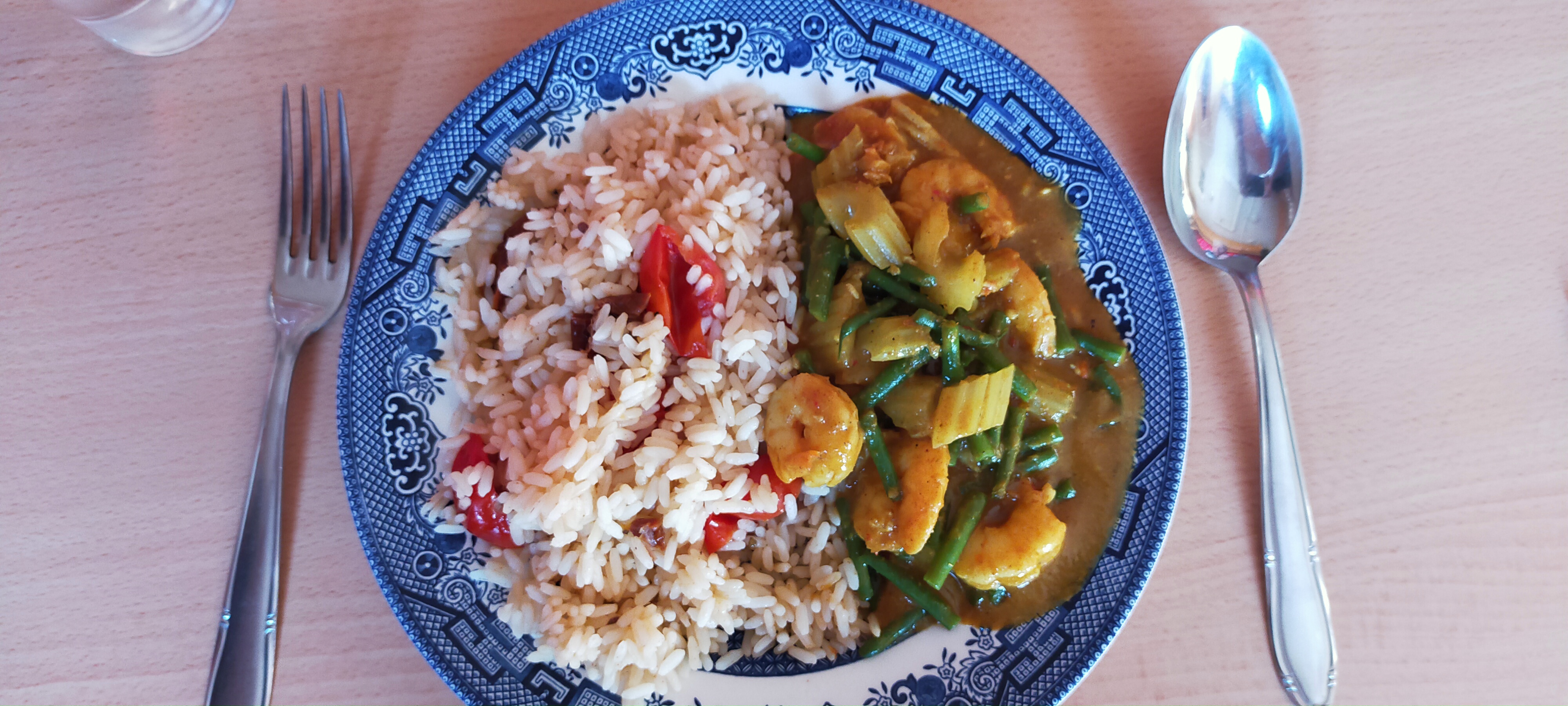 Prawn curry recipe.
For the curry paste:
1 tablespoon madras curry powder. ( Use less if you don't like spicy).
1 teaspoon coriander powder.
1 teaspoon ginger powder.
1 teaspoon garam masala. (Optional).
1 teaspoon cardamom powder.
1 big red or purple onion.
3 cloves garlic.
1 teaspoon brown sugar.
2 tablespoons cooking oil.
In a mortar and pestle pound together the ingredients above to make a paste. Or if you only have blender that's fine too, just use your blender.
I like using a mortar and pestle because I get more flavour out of the ingredients. But I understand that not many people have that tool and they are not familiar with them.
400 gr fresh grey king praws. (Shelled and deveined)
3 stalks of celery.
60 gr baby carrots.
60 gr button mushrooms.
200 ml coconut milk or use natural yoghurt if you cannot get coconut milk.
Salt to taste.
I know some people do not like shelling and deveining prawn or shrimp. You can always get frozen ready to cook prawn from the store of course but I personally like the fresh prawns, because they taste like prawn instead of chewy and tasteless frozen prawns.
Again the vegetable you want to put in your curry is up to you and what you like. This is just a guide for cooking your own curry. In here we use vegetables that is available in our kitchen. Also prepare it the way you like it, we do like chunks.
Heat up a wok or soup pot with medium flame.(always start with medium flame because you don't want to burn your cooking pots). Put the curry paste in the wok and stir-fry it until fragrant and slightly changing colour. Gradually add in the vegetables and cook it for about 6-8 minutes.
After the vegetables are cooked, turn the flame to high and add in the prawns and coconut milk or yogurt, cook it for another 2-3 minutes or until bubbling then switch off the flame.
Now, some may ask why do you cook the prawns for such a short time? Because you don't want to loose the flavour and texture of your prawn. Seafood is best cooked with a high flame and for a short time.
This recipe is for two, if you want more just add more of the ingredients.