This soft and fluffy cake will not stay long on your table. It definitely did not stay long on my table.
|
This chiffon cake is very easy and definitely you will not fail if you follow the instructions correctly.
First things first; make sure you have chiffon cake tin. Do Not use non stick cake tin as it will make your chiffon cake sink.
Second things; make sure your oven is in the right temperature before you put the cake in the oven.
And last but not least; Do Not over mixed the batter.
Let's start. Here is the ingredients you will need.
4 large eggs (room temperature).
100 gr caster sugar.
80 gr all purpose flour.
20 gr corn flour.
70 ml coconut milk.
60 ml coconut oil or vegetable oil.
1 tablespoon lemon juice.
Method;
Heat up the oven to 170C fan oven, 3 gas mark, 338 Fahrenheit.
Separate eggs yolk from the white.
Mix the yolk with 20 gr of the sugar, coconut milk, oil, and flours. Mix well but do not over mix it. Set aside.
In a separate bowl beat the eggs white with a hand mixer on medium speed, gradually add in the remaining sugar and lemon juice. Beat it for about 4 minutes from the start, then switch it off.
Scoop two tablespoons of the eggs white mixture into the eggs yolks mixture, fold it gently with spatula. Once it all mixed up pour the eggs yolk mixture into the eggs white mixture and again fold it gently. Do Not over mix it.
Pour the batter into chiffon cake tin and bake it in the oven for 45-55 minutes.
Always check your cake with cocktail stick or cake tester before take it out of the oven.
Once the cake is baked, take it out the oven and quickly turn it upside down to cool. See picture. Let it completely cool before you cut it.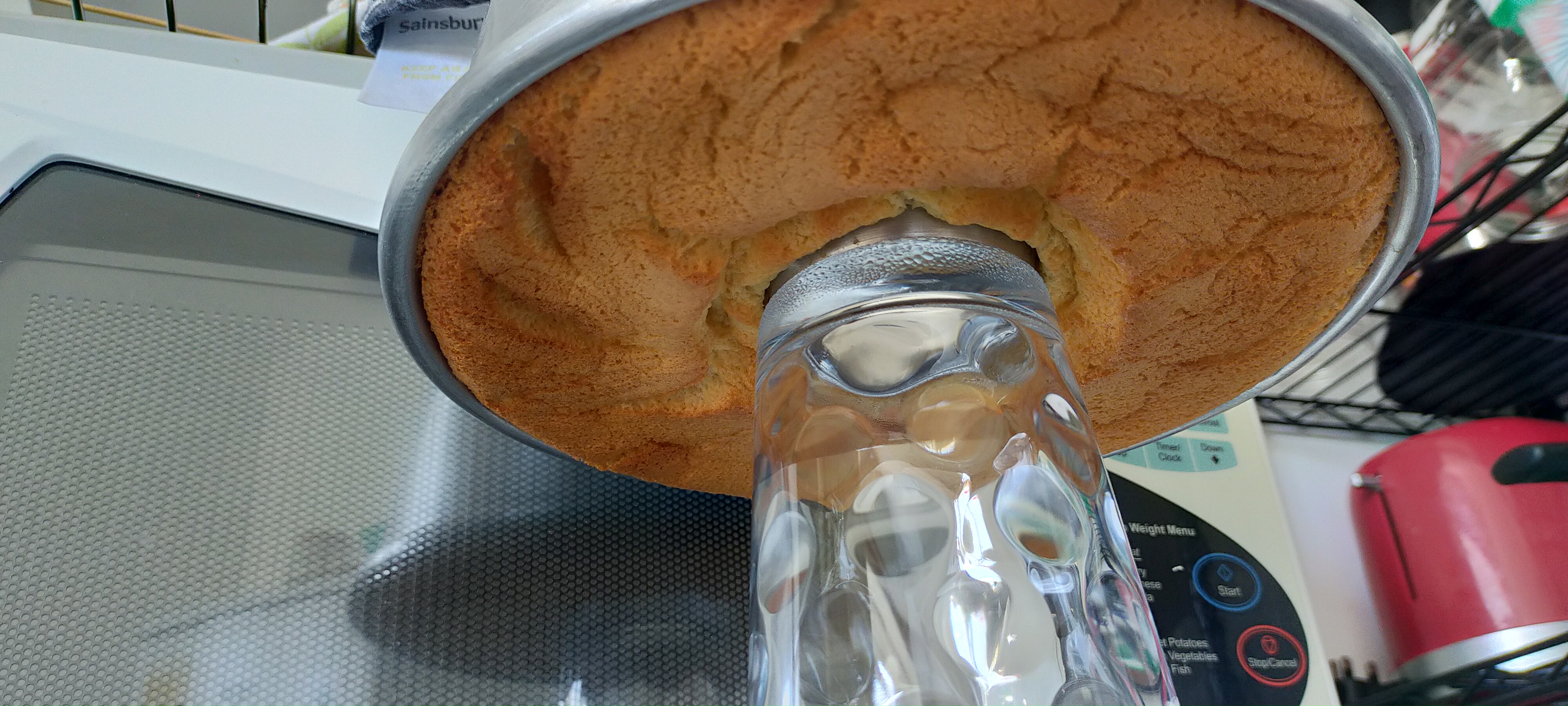 Yes, i had try and fail plenty of time before. So this is not my first time. Keep trying and you will get the best results of your creations. Best of luck.