Beef Randang is one of a Must try food when you visit Indonesia or Malaysia.
|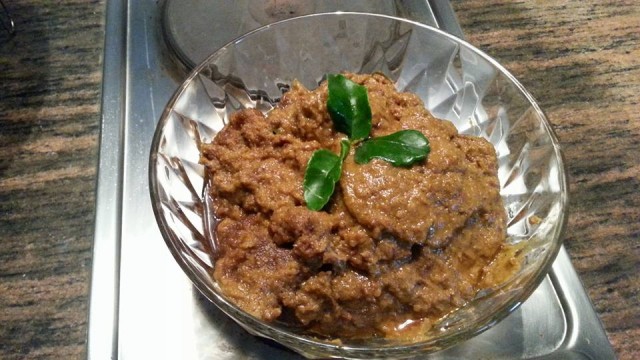 A traditional Indonesian dish
Beef rendang
Ingredients:
800g beef brisket cut into 5cm cube.
3 stalks  lemon grass.
3 cm galangal.
7 pcs kefir lime leaves.
1 litterfresh coconut milk/cream.
100 gram roasted dried shredded coconut.
2 tablespoons vegetable oil.
2cubes beef stock.
100g palm sugar.
Salt to taste.
Ingredients for rendang paste:
8 pcs big red chilies.
8 pcs small red chilies.
9 clove garlic.
17 pcs small red onions/shallot.
3 cm fresh ginger or 1 teaspoon dry powder.
3 cm fresh turmeric or 1 teaspoon dry powder.
1 tablespoon coriander seeds.
1 teaspoon cumin powder.
½ teaspoonn nutmeg powder.
2 teaspoons pepper corn.
3 pcs candle nut or macadamia as a substitute.
or buy ready made rendang paste in a jar.
Method:
Using a mortar and pestle (our traditional way) pound together ingredients for the paste. Pounded them until smooth or put them into your blender (careful not too overload the blender).
Heat the oil in a wok or a big pan; add the paste and stir-fry until fragrant. Add the beef along with the lemon grass, kefir lime leaves, galangal, and palm sugar. Cook until the meat becomes brown and a little oil until it becomes visible in a wok/pan.
Add the coconut milk/cream and salt to taste, cook (simmer) until the meat is tender and sauce thickened, turn off the heat and throw in the roasted coconut.
Serve with hot jasmine rice and vegetables on the side.
Serves 8