Do you know that the word paella means 'a pan' and where does it originate? Obviously Spain right?
|
Paella is a Spanish dish that was found in the Valencia province of Spain, or Valencia port to be exact.  The word Paella came from the Latin word Patella meaning pan.  Originally made by farmers who grew rice and fishermen who brought seafood from the ocean.
Do you need a paella pan to be able to cook paella? Ideally you do, but don't worry if you haven't  got one.  Personally, I do not have one in my kitchen but I still manage to cook delicious paella with my skillet frying pan or wok.  I first  came across the dish was when I was working in Singapore, many years ago.  The dish was so very attractive with all those prawns and sliced lemons on the top and loads more seafood mixed within the rice.  But I was disappointed when I ordered it. It was lacking in the flavors that I was expecting.  With all that seafood I was expecting a rich flavor and body, but it was bland.   So from there on I did my research and when I met with Spanish friends, I told them about my experience and "guess what", they said paella should be rich with flavor and aromatic spices.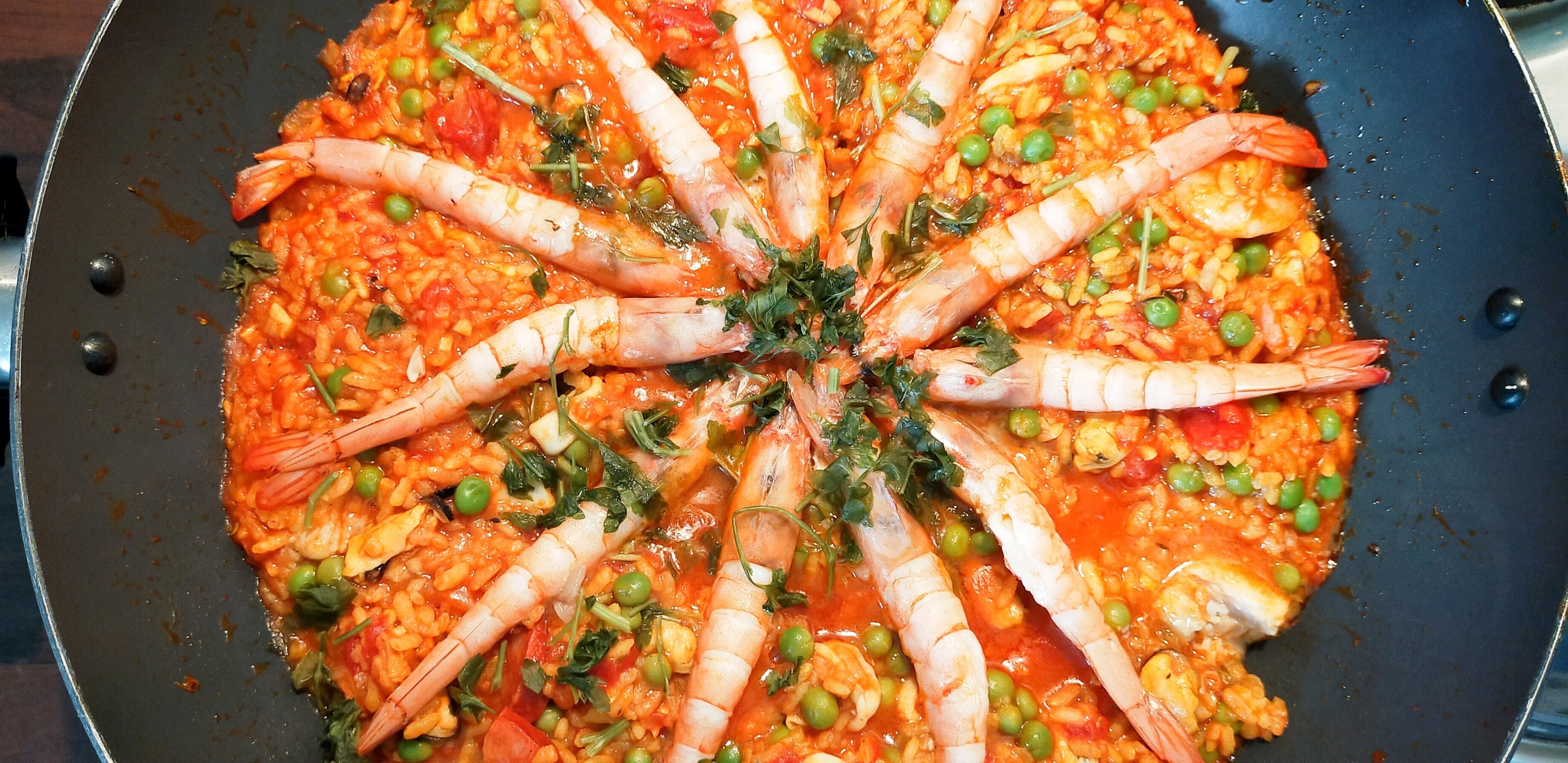 Here is my recipe for easy, rich in flavor, and aromatic smokey paella. Don't worry if you haven't cooked one before, you will do just fine with this easy, but flavorful paella. all you need is here:
200 gr paella rice or short grain like Arborio or Risotto rice.
300 gr mixed frozen seafood.
100 gr smoke fish. (any fish to your liking, I used haddock).
12 pieces fresh grey king prawns. (wash and cleaned).
200 gr frozen peas.(cooked according to the package).
1 medium white onion. (finely chopped).
3 cloves of garlic. (finely chopped).
in a small bowl mix together the dry ingredients below.
1 teaspoon dry thyme.
1 teaspoon smoked paprika powder.
1 teaspoon chicken stock powder.
1/2 teaspoon dry turmeric.
1/4 cup dry sherry or 1/2 cup dry white wine.
400 gr chopped canned tomatoes.
400 ml hot water or unsalted vegetable stock or fish stock.
50 gr Spanish  cooking chorizo or any other chorizo you get from the stores. (I use chorizo extra).
1 lemon. half for the juice and another half to slice for serving.
2 tablespoons olive oil.
2 tablespoons chopped fresh flat leaf parsley for garnish.
Now then, authentic Spanish paella uses saffron instead of turmeric, but since I don't have  saffron in my spice cupboard, I just use turmeric instead.  Sorry Spanish friends, hope you don't mind that.
Wash the rice and set it aside.  In a paella pan or skillet frying pan heat up the oil and fry the onion and garlic until fragrant. Add in the rice and the dry ingredients, and keep stirring it to get the spices infused into the rice, – for about three minutes with a medium flame/fire.  Add in the cooking chorizo and the dry sherry/white wine whichever one you using, let the rice absorb all liquid then add in the canned tomatoes and water or stock.  Let it cook for fifteen minutes with the lid on the pan.  Open and stir it occasionally.
After fifteen minutes, open the lid, add in the cooked peas, stir well, and add in the seafood, put the lid back on and cook for another ten minutes.  Pour the lemon juice evenly on the top and add chopped parsley. Serve it immediately with the sliced lemon on the plate.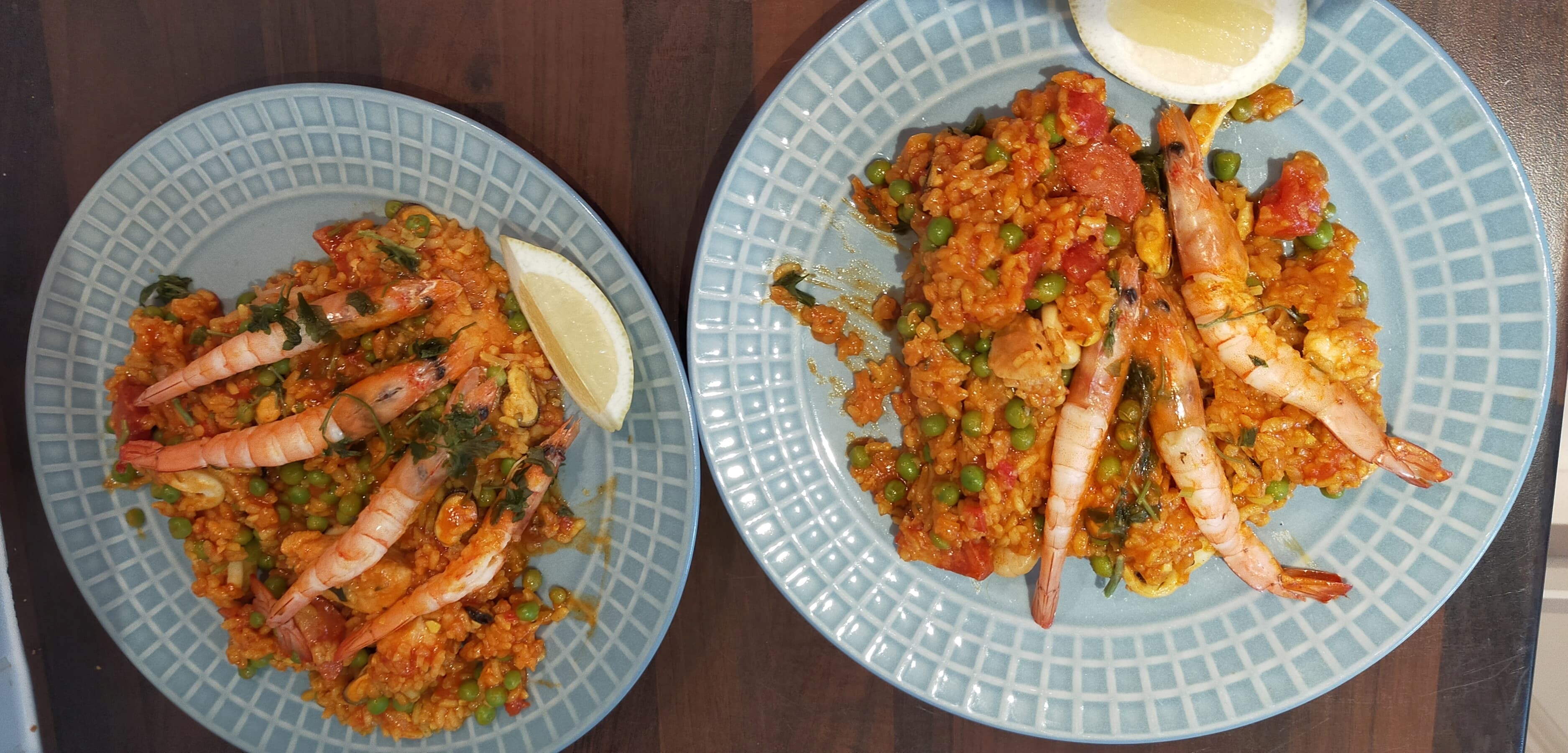 Some people say they are best serve with garlic bread but we don't double carbohydrate on the table so we normally have it on it is own or with a salad on the side. This will be easy serve for 4 persons.
Oh wait! where is my sangria?